Bedroom
Our solid wood bedroom furniture is handcrafted using cherry, maple, oak, quarter sawn oak, and rustic alder. You choose from a variety of styles including: mission style, traditional, transitional, modern and styles for your kids and teen. All our solid wood bedroom furniture comes with solid wooden bed frames, platforms or pedestals. Every bedroom nightstand, dresser or chest has full extension drawer glides also available with soft close glides.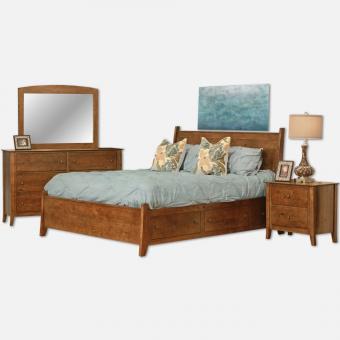 Solid Wood Bedroom Furniture
The value of purchasing solid wood bedroom furniture cannot be over appreciated. It is often said that people generally buy furniture three times in their lives; once when they leave the nest, second when they are establishing a home with or without children; and finally when the children leave home or at retirement. Usually, the first two sets of furniture are completely destroyed or are a blight to the eye after a few years of use. This is because most furniture is arguably garbage in waiting. Garbage? Yes, garbage. Most furniture is essentially made of pressed sawdust and toxic glue, covered by a paper-thin top sheet of plastic. This type of furniture is easily damaged beyond repair by a simple bump or scratch.
Stuart David Furniture has always used solid wood construction in our bedroom furniture. To do this, natural wood is harvested from managed forests, where lumber is selected and replanted for sustainability. Our bedroom offerings are built to last for many lifetimes from this material and are often passed down from generation to generation. In a very real sense, this is the most environmentally friendly way to produce furniture; this is furniture that does not end up in a landfill unable to be recycled. We craft real wood bedroom furniture, period. While real wood may cost more, in the long run, it is far less expensive in terms of one's wallet, as well as ecosystem.
Our niche: Real wood beds, nightstands, dressers, chest, armoires, all made in our California factory near Modesto. With over twenty solid wood beds and bedroom groups to choose from, Stuart David is sure to have a style that suits any aesthetic requisite. In addition, because we manufacture our own furniture, we are able to offer many wood species, like: Maple, Beech, Oak, Quartersawn Oak, Rustic Alder, Hickory, and Walnut. Furthermore, we also offer a large variety of color options for those wood species.
Features of Stuart David Bedroom Furniture
Natural wood is not the only consideration one might make when buying furniture. The importance of high-quality drawers and hardware should not be overlooked. What good is a dresser to hold all of your treasures, if the drawers are impossible to open or fall out if you pull too far. Most bedroom offerings from Stuart David Furniture features full extension soft-close drawer 'glides', 'slides' or 'runners'. The few bedroom groups that do not have soft-close glides, use lower cost, though high quality full extension ball-bearing glides. This ensures easy access to a drawer's contents and guarantees the drawers will not fall onto your feet.
Our Bedrooms manufacturing facility is located in California. We use high-tech machinery to optimize the use of wood and allow for greater consistency of cuts. Even though we have high-tech machines, our bedrooms are still assembled and finished by hand. Adjacent to our factory is our retail store where the public can see many examples of the wall beds we manufacture. Our furniture store, sometimes called our furniture or factory showroom, is over 30,000 square feet so you will surely find something you like even if it is not a wall bed. We encourage you to come to the furniture store so you can see and feel the quality of the furniture. If you are not able to make it to the store our website is a great place to get ideas of what we can do.
We do not currently list our prices online for a variety of reasons, but you can obtain a price by calling us, by visiting our store or visiting our dealer locations.
Our manufacturing facility and furniture store can deliver all over the country, but our direct servicing area is more regional in California. We service all the cities directly around our store such as Modesto, Turlock, Ripon, and Oakdale. Our direct delivery and service area also includes any city between Sacramento and Fresno from San Jose to Santa Rosa to cities east of Auburn and Sonora.