Dressers & Chests
What a pleasure to have a place for everything and everything in its place. With Stuart David's quality solid wood bedroom dresser and chest offerings, you can design just such a delight for yourself. Choose from a wide variety of woods with beautifully hand applied paints and stains. Further, customize your solid wood dresser or chest with more hardware choices than you could hope for.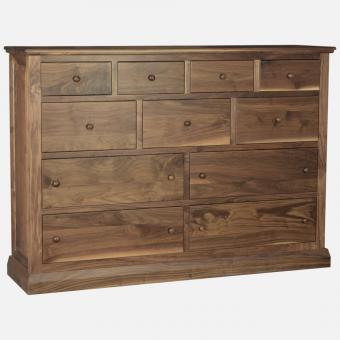 Quality Dressers and Chests
Bedroom dressers and chests are an imperative when it comes to a tidy and uncluttered bedroom. Unless a bedroom contains a huge closet, or the room is occupied by an extreme minimalist, a high quality, solid wood dresser or chest is essential.
When people set out to buy a solid wood dresser, they are already starting off the purchasing process in the best direction. One simply cannot beat the value of real wood bedroom furniture in terms of beauty and long-term durability. Real wood dressers stand the test of time both in terms of multigenerational aesthetic appeal as well as outright rigidity and resistance to unintentional damage.
In the greater Modesto, Sacramento, Fresno, Livermore, Oakdale areas, Stuart David is by far the best choice for beautifully crafted solid wood bedroom chest and dressers. Dressers are arguably our forte. Stuart David packs a lot of very important features into our offerings. One of these design elements include reinforced structural details that will never be seen once the craftsman assembles each subcomponent. Have you ever seen a cheap piece of furniture at a box retail falling apart on the display rack? This simply does not happen with Stuart David dressers and chest, because each unit is assembled for permanent assembly and designed to last for many lifetimes. Have you ever pulled a drawer out of even an expensive dresser only to have the drawer box come crashing to the ground? Stuart David uses high quality, full extension ball bearing glides affixed to solid lumber drawer boxes that have been dovetailed at the joints where each side meets. Drawers do not fall apart or accidently fall out of a Stuart David bedroom chest. Most of our dressers even feature undermount soft-close drawer glides for effortless, full extension, in and out operation. Have you ever lost a sock or other article of clothing inside of a dresser or have been unable to open or close a drawer for the same reason? Most Stuart David dressers and chests feature something we call a dust-guard which isolates each drawer cavity and does not allow overstuffed drawers to dump their contents down into another drawer. Many of our dressers also feature a jewelry tray, located in the top right most drawer.
Options for Dressers and Chests
Stuart David solid wood dressers and chests come in many sizes and configurations. We offer oak, quarter sawn oak, maple, walnut, cherry, beech, rustic hickory, rustic alder, all in many stains and paints. Because we manufacture our own wood products, we are even able to make custom sizes and configurations. Viewing our furniture online only gives you a glimpse of the true beauty of the piece. We encourage all our customers to visit our store / factory showroom where they can see and feel the true beauty of wood furniture and work with our sales people to understand the options and the price of their selection.