Vertical Wall Beds
Murphy Beds are a practical solution to a common problem: not enough space. With a hand crafted, American Made wall bed from Stuart David, you can find a happy solution. Each bed is made of real wood with no particle board, so you can rest easy knowing that your wall bed or wall bed system is a strong, sturdy foundation for a great night's sleep. With hundreds of options for maximizing your space and a seemingly endless array of stains, paints and hardware to choose from, your new room will be as warm and welcoming as you like…with plenty of floor space in the daytime and a cozy bed at night. Made in the USA.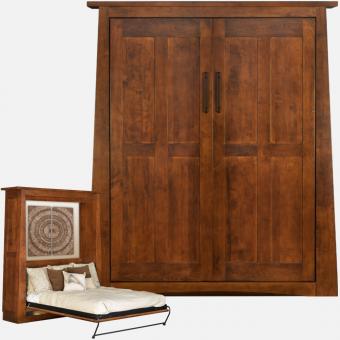 What is a vertical Murphy Bed / Wall Bed?
They are, by far, the most popular choice for customers when considering the purchase of a Murphy Bed.  A Vertical Wall Bed (while open) extends deeper into a room than does a Horizontal Wall Bed, and saves more space along the width of a wall.  These wall beds are offered in Twin, Full, Queen, and King sizes (not California King).  A mattress up to 11" thick can be stowed upright behind a beautiful, solid wood work of art.  In addition to using only the highest quality wood materials available, Stuart David wall beds feature a tried-and-true metal mechanism and frame pivot structure.  Many of our competitors' source cheap gas shocks or other inferior mechanisms that wear out in a short time.  With the help of specially designed springs, Stuart David murphy beds can be raised and lowered with very minimal effort utilizing a mechanism built for a lifetime of use.  It's as simple as turning the safety lock, pulling the door away from the wall, and lowering the wall bed legs.
How is a Wall Bed installed?
They attach to a wall. This means it is securely fastened to an inner stud(s) via a few screws.  Homes, etc. with metal studs require special toggle bolts to the same end.  To ease installation, our wall beds feature a cut-out (1 x 6") so that removal or cutting of existing base molding is NOT required.  This makes installation a snap.
Will I see the wall bed mechanism bolts / hardware on my new murphy bed?
That depends. Our non-Deluxe wall beds can be purchased with end covers that add minimal width to the bed, while covering all bolts.
Can I add a pier to my vertical wall bed?
Sure can. A pier or bookcase can be added on one or both sides of any vertical wall bed. For the most part piers are attached after the wall be portion is installed. The only exception to that is the Studio wall beds. They incorporate the bed and pier / bookcase units into a single large structure.  This means that the bookcases are actually a structural side element of the bed itself.  Studio beds even feature a storage space above the bed for storing knickknacts or displaying accent accessories. <link to studiobeds category page>
What options does Stuart David offer?
There are so many options!  From solid wood species such as Maple, Cherry, Oak, Rustic Oak, Rustic Alder, Walnut, Beech, along with all of our finish color and paint selections, hardware…the custom configurations and styles are nearly limitless.  We even offer unique storage headboards, sliding pillow guards, USB power supplies, just to name a few.
Many Stuart David customers are opting to make their Murphy bed their actual bed.  Our beds are not a simple step up from an air mattress for a guest that might come to visit on occasion, though they are often used as such.  We offer a high-quality, solid wood murphy bed that supports a high-quality mattress and folds up out of the way to return the once occupied floor space.  Small room?  No problem.