Wall Beds
Stuart David is the premier manufacturer of Solid Wood Wall Beds/Murphy Beds in California. We build Twin, Full, Queen, King sized Wall Beds. If you have an extra bedroom and want to use it for things other than an extra guest room, a Wall Bed is a great idea for you! With a Wall Bed plus the addition of companion units or a desk, you can utilize your extra bedroom as an office, sewing room, hobby area, or 1000 other uses! Lift the Bed up and use the room for yourself; pull the Bed down and you have the perfect guest room!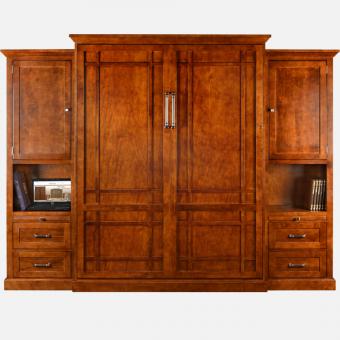 What is a Murphy Bed or Wall Bed?
Let's call it the most useful, space-saving invention of all time...  Whatever you call it, there is no mistaking the invaluable utility of a bed that just disappears in plain sight.  Featuring a counter balance mechanism which allows the folding bed to be easily opened and closed by any user, a quality Murphy Bed is the perfect way to add sleeping capacity to even the smallest of spaces.  When William Murphy invented the "Disappearing Bed" over a century ago, could he have possibly known how significant his contribution would be?  At Stuart David Furniture, we have taken Murphy's inspiration and run with it.
In the greater Modesto, Sacramento, Fresno, Livermore, Oakdale areas, Stuart David is by far the best choice for beautifully crafted solid wood murphy beds.  We believe we are the best choice full stop, period.  While some people imagine only a Wall Bed's practical application, we have taken the concept much further, manufacturing beautiful solid wood works of art.  They don't have to simply be a hidden bed…
Not everyone has the same taste in furniture and décor. For this reason, we offer 15+ different styles of real wood wall beds to choose from.  That is 15 esthetically unique designs.  From deluxe statement pieces to price conscious economical solutions, we have a wall bed for you.  Stuart David has always been a custom factory and store.  We believe that offering locally made, quality real wood products along with choice adds the greatest value for our customers.  We offer thousands of custom configurations, wood selections, stains, paints, and hardware.
A Murphy bed can be more than just a place to sleep.  Want a wall system including bookcases, nightstands, wardrobes, a working desk, and beyond?  We do that.  We even offer deluxe options inside of the beds such as articulating headboards.  As the solid wood door or tray hinges outwards into the room, a headboard panel almost magically articulates upwards and back. This yields a functional head and backrest that also ensures pillows remain in place on the mattresses during the night.  Have a little extra space in your room?  By adding additional depth, we can add a ledge or shelf and cubby behind your articulating headboard with a USB power supply for a clock or phone charging.  Because more and more people recognize the amazing utility and space saving capability of a murphy bed, more and more people are choosing to make these not just a guest bed, but their everyday bed.  Imagine the play space freed up in a child's room when the bed just folds up to a wall!
Our studio collection is a sight to see!  These vertical and horizontal solid wood murphy beds have a modern or European feel.  Instead of a wall bed and accompanying side units or bookcase, the bookcases are actually the structure of the murphy bed.  These systems create a minimalist feel, while adding lots of utility.  Horizontal studio versions of this line include a cubby or horizontal bookcase area above the wall bed for a handsome display of your personal knickknacks and beyond.  We even offer a corner version of this product line.  Imagine that!  Filling adjacent walls with beautiful solid wood vertical and horizontal wall beds!
How is a wall bed held up?
They attach to a wall.  This means it must be securely fastened to an inner stud(s) via a few screws.  Homes or commercial buildings with metal studs require special toggle bolts to the same end.  To ease installation, our wall beds feature a cut-out (1 x 6") so that removal or cutting of existing base molding is NOT required.  This makes installation a snap.
Things to consider before purchasing a wall bed.
There are at least two limiting factors to consider when shopping for this furniture.  Will the ceiling be too short for the installation?  Typically, a ceiling needs to have at least 3-4 inches of space between it and the overall height of the bed.  The other potential set back might be the location or height of a ceiling fan in the room.  Conveniently, Stuart David provides door swing measurements / estimations so this concern can be addressed.  In situations where one of these considerations might cause an issue, our Horizontal Wall Beds offer a fantastic solution.
Will I see the mechanism bolts / hardware on my new murphy bed?
Depending on the style and configuration you may see some hardware. Our Deluxe styles cover all mechanism bolts and fasteners, and are completely 'finished off".  In addition, our non-Deluxe wall beds can be purchased with end covers that add minimal width to the murphy bed, while covering up all bolts, and so on, similar to the Deluxe Wall Beds.  In addition, with only one exception, adding a pier or bookcase to a wall bed will also cover any mechanism bolts and structural fasteners.
Options, Options and More Options.
There are so many options! The first choice is the size, we offer twin size, full size, queen size and standard king sizes (not cal king), we manufacture it all, in our own America factory.  Choose from our solid wood selections such as Beech, Cherry, Maple, Oak, Quartersawn Oak, Rustic Alder, Rustic Hickory, Rustic Oak, and Walnut. These woods are available in many different finish paint colors. You also hardware…the custom configurations and styles are nearly limitless.  We even offer unique storage headboards, sliding pillow guards, USB power supplies, LED lighting both inside the bed as well as in adjacent piers, just to name a few of the options.
Our Wall Beds feature real, solid wood construction and the most robust, easy to use and longest lasting mechanism available.  A Murphy Bed does not have to be an after-thought, semi-comfortable guest bed, opened only on rare occasions; Stuart David Furniture is designed to last many lifetimes and are up to the rigors of daily use.  We use only the highest quality materials and construction methods, including solid wood and the most heavy-duty mechanism and support structure available.
Stuart David is set up to develop a true balance between practicality, functionality and beauty that will enhance anyone's living space.  Our solid wood Murphy beds are beautiful, functional statement pieces that provide invaluable space savings for you and or your guests, all while enhancing the décor of your home!
Our Murphy Bed manufacturing facility is located in California.  We use high-tech machinery to optimize the use of wood and allow for greater consistency of cuts.  Even though we have high-tech machines, our wall beds are still assembled and finished by hand.  Adjacent to our factory is our retail store where the public can see many examples of the wall beds we manufacture. Our furniture store, sometimes called our furniture or factory showroom, is over 30,000 square feet so you will surely find something you like even if it is not a wall bed. We encourage you to come to the furniture store so you can see and feel the quality of the furniture. If you are not able to make it to the store our website is a great place to get ideas of what we can do.
We do not currently list our prices online for a variety of reasons, but you can obtain a price by calling us, by visiting our store or visiting our dealer locations.
Our manufacturing facility and furniture store can deliver all over the country, but our direct servicing area is more regional in California. We service all the cities directly around our store such as Modesto, Turlock, Ripon, and Oakdale. Our direct delivery and service area also includes any city between Sacramento and Fresno from San Jose to Santa Rosa to cities east of Auburn and Sonora.