Bookcases
Are you looking for a Custom Solid Wood Bookcase? We make solid wood bookcases that range in size from 26 inches wide to 73 inches wide, and from 29.5 inches high to 91 inches high. We make simple bookcases, specialty bookcases, media and library bookcases (with glide rolling ladders if needed), as well as organizational bookcases. Our bookcases come with drawers, solid, glass or speaker mesh doors, even lights; basically any way you want them!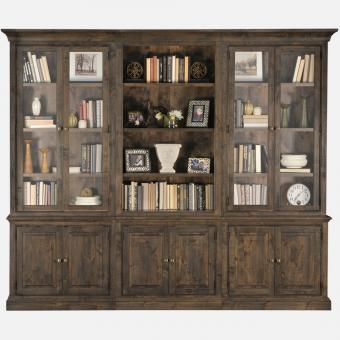 What is a bookcase?
Where to store all those books…? A bookcase must meet at least one of the following criteria: It needs to be functional, and therefore robust enough to bear the weight of its contents, and or it should be a beautiful statement piece of furniture up to the task of displaying one's wistful treasures with pride. A Stuart David solid wood bookshelf is the obvious choice when it comes to meeting all of said requirements in one go!
Real Wood Bookcases
A bookshelf fashioned of real, solid wood is actually not that easy to find. Most products in furniture stores are essentially made of sawdust and cardboard. That's right, most 'wood products' are constructed of pressed sawdust and glue, covered by a paper-thin veneer oftentimes not even real wood. Stuart David's approach to furniture has always been different. Since our inception, Stuart David bookcases have been made with only the finest quality lumber available. Aesthetics aside, a bookcase must stand up to the demands of its utility. It must hold heavy objects without bowing the shelves and eventually dropping those valuables to the floor. It must withstand the wear and tear of sliding books on and off the shelves, and it should last many lifetimes, passed on from one generation to the next. This is true sustainability.
Bookcase Options Offered by Stuart David
Stuart David offers many unique styles of wooden bookcases. From stand-alone (single bookshelves) to multiple units fastened together to fill an entire wall and even corner units which allow continuity of bookcases along adjacent walls and bookcases that mate to home office and entertainment furniture, Stuart David can do that! We are not aware of any furniture factory or store in Modesto, Sacramento, Fresno, Livermore, Oakdale or all of California that can offer that! Short, tall, skinny, wide, shallow, deep, custom sizes, certainly we have a bookshelf solution for every home or office. We also offer many hardwood and color choices along with optional doors, LED lighting, glass shelves, deluxe paneled sides, and more.
We are the Manufacturer
Our bookcases manufacturing facility is located in California. We use high-tech machinery to optimize the use of wood and allow for greater consistency of cuts. Even though we have high-tech machines, our Bookcases are still assembled and finished by hand. Adjacent to our factory is our retail store where the public can see many examples of the wall beds we manufacture. Our furniture store, sometimes called our furniture or factory showroom, is over 30,000 square feet so you will surely find something you like even if it is not a wall bed. We encourage you to come to the furniture store so you can see and feel the quality of the furniture. If you are not able to make it to the store our website is a great place to get ideas of what we can do.
We do not currently list our prices online for a variety of reasons, but you can obtain a price by calling us, by visiting our store or visiting our dealer locations.
Our manufacturing facility and furniture store can deliver all over the country, but our direct servicing area is more regional in California. We service all the cities directly around our store such as Modesto, Turlock, Ripon, and Oakdale. Our direct delivery and service area also includes any city between Sacramento and Fresno from San Jose to Santa Rosa to cities east of Auburn and Sonora.