Nightstands
Stuart David's quality, expertly designed nightstands do a superb job of corralling your bedside items. Select a single drawer style with open shelving beneath or opt for a more traditional multi drawer design. Our handcrafted nightstands look equally as beautiful in a sleek, modern space as beside an heirloom bed. Fully customizable with paint, stains, design and hardware options, you're sure to find the perfect nightstand to meet your needs.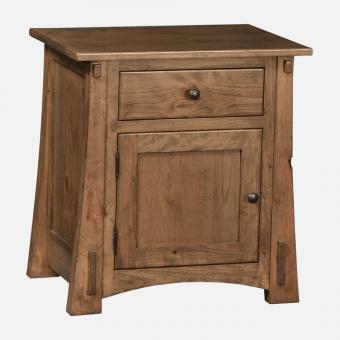 What is a Nightstand?
Were you aware that the origin of what we now call a nightstand was in fact a bedside chamber pot or portable toilet? Thankfully, the modern world is replete with flushing toilets! That aside, no bedroom is complete in today's age without a solid wood bedside stand or two. A nightstand organizes those bedroom quick access essentials that should never be too far from grasp. A cell phone charging station, lamp, firearm, alarm clock, random storage, the uses for a bedside stand are immense.
Nightstand Options
Stuart David solid wood nightstands are some of the finest natural wood bedside furnishings available for sale. There is simply no better choice when it comes to real wood nightstands and bedroom furniture. Stuart David offers many different woods, colors, configurations, sizes and styles to suit the needs and home aesthetics of any discerning shopper. We also offer the ability to add usb and power access to many of our nightstands, as well as pullout shelves and sliding tops which reveal a hidden compartment. Our wood nightstands can be customized to fit your needs and space!
Nightstand Features
Most of our wood nightstands come standard with soft-close, undermount ball bearing drawer glides or runners. The drawer runner is hidden from view when the box is retracted, and gradually slows to a stop as they are closed. All Stuart David drawer boxes feature solid wood dovetail joinery, ensuring they will stand the test of time and provide years of reliable utility. Most furniture available in stores, imported or otherwise, are made of cheap material, usually consisting of fiber board that falls apart with even minimal use. A solid wood bedside table from Stuart David is truly an investment.
We service Central Valley California cities including Modesto, Sacramento, Fresno, Livermore, Oakdale and beyond and are certain we have a real wood nightstand that is perfect for your home!