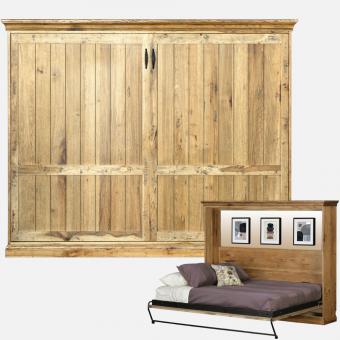 What is a Horizontal Murphy Bed / Wall Bed?
These are a great choice for consumers considering the purchase of a Murphy Bed when you have a low ceiling or obstructions like a ceiling fan close to the side walls. A horizontal Murphy bed does take up more space along the width of the wall, but it does not extend as deep into the room as a vertical wall bed does. Horizontal wall beds are offered in Twin, Full, and Queen sizes. A mattress up to 11" thick can be stowed sideways behind a beautiful, solid wood, work of art. In addition to using only the highest quality wood materials available, Stuart David horizontal wall beds feature a tried-and-true metal mechanism and frame pivot structure. Many of our competitors' source cheap gas shocks or other inferior mechanisms that wear out in a short amount of time. With the help of specially designed springs, Stuart David horizontal Murphy beds can be raised and lowered with very minimal effort utilizing a mechanism built for a lifetime of use. It's as simple as unlocking the safety lock, pulling the door away from the wall, and lowering the bed legs.
How is a Wall Bed held up?
They are attached to a wall. This means it must be securely fastened to an inner stud(s) via a few screws. Homes, etc. with metal studs require special toggle bolts to the same end. To ease installation, our wall beds feature a cut-out (1 x 6") so that removal or cutting of existing base molding is NOT required. This makes installation a snap.
Can every wall bed style be made horizontal?
There are a few wall beds that we do not offer as a horizontal wall bed; they are the Empire, Madison, Sierra Vista, Vernalis and the bookcase wall bed. The main reason they are not offered is the size of the crown molding.
Will I see the wall bed mechanism bolts / hardware on my new murphy bed?
That depends. Our non-Deluxe wall beds can be purchased with end covers that add minimal width to the bed, while covering up all bolts.
Can I add a pier to my horizontal wall bed?
Yes you can. Murphy bed bookcases are generally something that Stuart David Furniture makes on a 'custom' basis. However, Stuart David piers are available in our Studio line as well. Studio wall beds incorporate the bed and pier / bookcase units into a single large structure. This means that the bookcases are actually a structural side element of the bed itself. Horizontal Studio beds even feature a storage space above the bed for storing nicknacts or displaying accent accessories.
Can I add lights to my horizontal wall bed or piers?
Yes! Stuart David offers handsome LED lighting that can be added to a wall bed bookcase as well as dimming LEDs for the bed itself.
What options does Stuart David offer?
There are so many options! From solid wood species such as Maple, Cherry, Oak, Rustic Oak, Rustic Alder, Walnut, Beech, along with all of our finish color and paint selections, hardware…the custom configurations and styles are nearly limitless. We even offer unique storage headboards, sliding pillow guards, USB power supplies, just to name a few of the options that can be added to our beds.
Many Stuart David customers are opting to make their Murphy bed their actual bed. Our beds are not a simple step up from an air mattress for a guest that might come to visit on occasion, though they are often used as such. We offer a high-quality, solid wood murphy bed that supports a high-quality mattress and folds up out of the way to return the once occupied floor space. Small room? No problem.